And the winner is...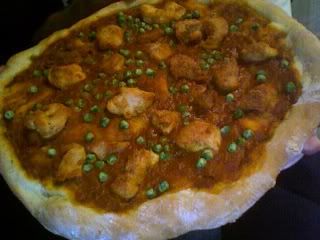 Slumdog Pizzanaire!
Pizzadelphia concocted this amazing pie for us during the Oscars last night. He made dough by Mark Bittman's recipe in the essential tome,
How to Cook Everything
. The korma sauce went on the dough. Pizzadelphia then pan cooked some chicken that had been dipped in flour so that it would have a little crispness on the pizza. That went on top of the korma, along with some peas. The entire beautiful thing went onto a hot pizza stone and WHAMO! Fantastic pizza!
The pizza stone made a huge difference. The crust was crisp on the outside and soft inside. The middle of the pizza crust wasn't wimpy or sagging. The combination of flavors was wonderful, especially the peas. The korma sauce had an unexpected spiciness to it, which the peas balanced perfectly.
A winner, for sure!